Home
Design Gallery
Bumper Stickers
Tutorial
Customers
Sizing Chart
Short Sleeved T's
LS T-Shirts
Fiber Optic Hats
Doggie Shirts
Shorts
Scrubs
Muscle T's
Onesies NB
Onesies 6mo
Onesies 12mo
Onesies 18mo
Rompers 6mo
Rompers 12mo
Rompers 18mo
Rompers 24mo
Pants
Swing Dresses
SS Swing Dresses
Summer Dresses
Tank Dresses
LS Dresses
Swimsuits
Rayon
Jr's Summer Tops-S
Jr's Summer Tops-M
Jr's Summer Tops-L
Sweatshirts
Tank Tops-M
Tank Tops-XL
T-shirt Dresses
Union Suits
Available in Adult sizes S-7X.
Any of the designs shown on in the web site can be dyed
for these items. Please send an email to place a
custom order. Please specify size, designs as
described in these pages, and colors when ordering.
Prices:

Adult T-shirts
S-XL-$15
XXL-$16
3X-$17
4X-$18
5X-$19
6X-$20
7X-$21
Here are some examples of designs on long sleeved t-shirts.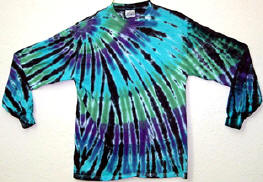 Splash Design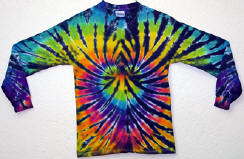 Spider Design
Offset Spiral Design
CrocusDesign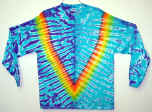 V Design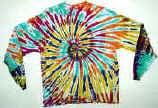 Wild Rainbow Spiral Design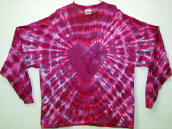 Heart Design
Flame Design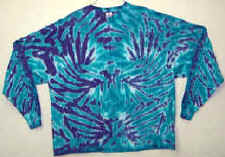 Blotter Design